Dundee offers life sciences and healthcare organisations with ambition, a uniquely collaborative environment and community to develop innovative new products and services.
​Unlike other healthcare and life science hubs, BioDundee offers a truly open and accessible network to help aspiring companies develop and test products from concept to launch. With our world-class research facilities, strong health and life sciences partnerships and access to relevant skills and facilities - we provide exceptional value and new opportunities.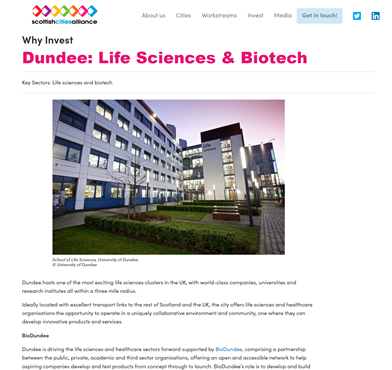 Find out what some members of the BioDundee community think of Dundee by reading their case study: 
Dundee is embracing a huge transformation and has been firmly propelled to a city of global renown. Perceptions are changing and with significant investment, has come significant return. The city has excellent prospects for business investment and a highly advantageous environment for enterprise to grow. The city is embracing its enormous potential and is undergoing an ambitious period of change - with the Waterfront regeneration as a catalyst, Dundee's future has never looked more positive.
THE THIRD-LARGEST REGENERATION PROJECT IN THE UK -  The £1bn, 30-year Dundee Waterfront Development
UK'S FIRST UNESCO CITY OF DESIGN - Joining their Creative Cities Network of Global Cities including Seoul, Kobe, Montréal, Singapore, Shenzen, Berlin, Buenos Aires, Helsinki, Bilbao and others
V&A, DUNDEE - The only design museum in the UK outside London
UK'S HIGHEST AVERAGE BROADBAND SPEEDS - 99% access to super-fast broadband (www.speedtest.net)
DIRECT FLIGHTS TO LONDON STANSTED - from Dundee Airport (daily exc. Saturday), a 5 minute drive from the city centre (Dundee Airport/Logainair)
RECOGNISED EXCELLENCE IN ACADEMIA & RESEARCH - University of Dundee and Abertay University within the city
A GLOBALLY RECOGNISED REPUTATION FOR TEACHING & RESEARCH - In areas as diverse as biotechnology and computer games
CITY POPULATION OF 148,270 - With approximately 306,300 people living within a 30 minute drive time of the city (Ordnance Survey)
90% OF SCOTLAND'S POPULATION LIVE WITHIN A 90 MINUTE DRIVE TIME FROM DUNDEE
ONE OF THE HIGHEST STUDENT:POPULATION RATIOS IN THE UK - At 1:5, with 50,000 people studying within 30 minutes of the city
HOUSE PRICES ARE MORE AFFORDABLE IN DUNDEE THAN IN ANY OTHER SCOTTISH CITY - House prices are 42% lower than Edinburgh and 20% below the Scottish average

credit:icons8.com

These are just some of the reasons, to find out more about Dundee click here.