​Dundee is home to one of the most exciting life sciences clusters in the UK, with world-class companies, universities and research institutes all within a 3 mile radius.  Click on the animation below for more information on the sector and the BioDundee Community to view the profiles of the organisations and companies in the sector.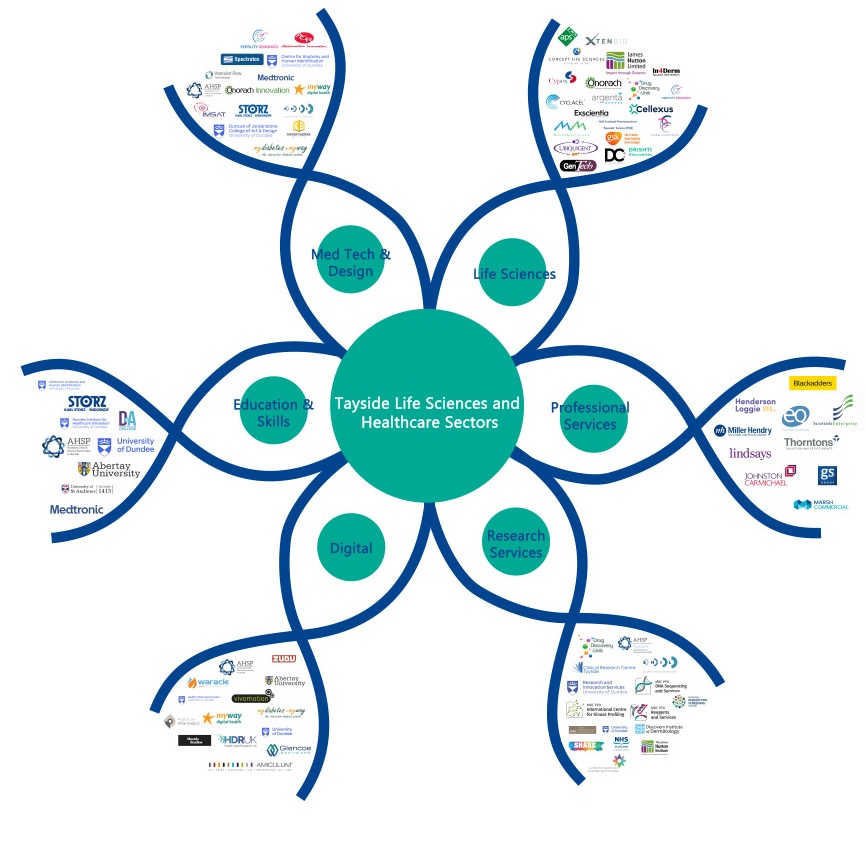 ​Both of Dundee's Universities, the University of Dundee and Abertay University undertake world-class research activities and collaborations while Dundee & Angus College offers our industrial partners customised training for the life sciences sector.
Dundee is home to:
Dundee has a well-established, active and vibrant Life Science and Healthcare sectors that come together to drive the sectors forward through a dedicated BioDundee coordinator with strong links into the Scottish Ecosystem.
 
The School of Life Sciences at the University of Dundee are at the forefront of Biological Sciences research in the UK. 71% of their activities is scored as 'world-leading' and 28% as 'internationally excellent' in the Research Excellence Framework (REF) 2021. This places Dundee as the top-ranking University for Biological Sciences research, a position they have maintained since the last REF exercise in 2014.
 
​​​​​The University of Dundee is ranked 1st in the world in influencing Pharmaceuticals by Clarivate Analytics, 2018.
 
The University of Dundee has one of the highest concentrations of Life Scientists anywhere in the UK – over 900 researchers from over 50 countries.
 

University of Dundee researchers have been named "six of the best" in a new list of the world's most influential academics.  Four experts from the University's School of Life Sciences, and a further two from the School of Medicine, have been named in Clarivate's Highly Cited Researchers 2021 list.
 

Dundee Institute for Healthcare Simulation is an international centre for simulation-based healthcare education and currently trains over 900 surgeons and other clinicians/healthcare professionals each year.
 
The 2020 QS World University Rankings in Biological Sciences place Dundee joint 1st in the UK and Europe and joint 16th in the World as judged by 'citations-per-paper', one of the most widely recognized metrics of scientific excellence
 
The University of Dundee brings together a unique combination of state-of-the-art facilities, world class expertise and researchers, clinicians and educators working closely to provide a truly integrated and realisitic simulation environment, for healthcare skills training, research and medical device development
 
The CWTS Leiden Ranking 2021 for Biomedical and Health Sciences Impact places Dundee is 5th in the UK and Europe, 11th in the World 
 
The University of Dundee's Drug Discovery Unit is a fully integrated, drug discovery research lab working across multiple disease areas bringing together assay development, screening, cell biology, medicinal chemistry, structural biology, computational chemistry and Drug Metabolism and Pharmacokinetics (DMPK), in one integrated facility. Collaborating with biopharma, product development partnerships (PDPs) and academic investigators to translate world-class biology research into novel drug targets and candidate drugs to address unmet medical needs across our two areas of activity, Anti-Infectives Drug Discovery and Innovative Targets Portfolio.
 
The James Hutton Institute is Scotland's largest independent research organisation research organisation that is globally recognised and active across a wide array of biotechnology-related areas.
 
The close collaboration between the University of Dundee and NHS Tayside creates an environment to stimulate innovation to drive health and social care improvement. 
 
The Institute for Medical Science and Technology (IMSaT), founded in 2006, uses Interface Science research, defined as research at the interface of the Life and the Physical Sciences and Engineering. The theme(s)-based research is carried out by interdisciplinary groups (medics, life scientists, biologists physicists, material scientists, interventional radiologists/ MRI, surgical technologists, and robotic engineers) working in shared laboratories. The interface science R&D paradigm has the benefit of accelerating development and clinical translation from Lab- to-clinic of new technologies for improved diagnosis and treatment of life-threating disorders.
 

Skills and leadership in design based thinking and product design innovation. V&A Dundee, Scotland's first design museum opened in September 2018, built on 20-30 years of expertise in Design.  
 

Dundee provides a unique opportunity for medical technology research through access to Thiel cadavers.  As the first UK institution to take up this method, we have several years of experience working with it and are now considered the UK's leading Thiel facility. 
 
The first University in Scotland to have a business accelerator on campus, Centre of Entrepreneurship.  The Centre of Entrepreneurship is in partnership with the University of Dundee and Elevator.
 
The University Spinout Report 2021, carried out by GovGrant, names Dundee as the UK's sixth most successful at commercialising innovation. The University spawned 1.5% of the UK's spinouts with these companies raising £325.7 million over the past two decades.
 
The University of Dundee is one of the world's leading centres for forensic sciences research and innovation.  The team works closely with colleagues in the Leverhulme Research Centre for Forensic Science
 
Health informatics Centre (HIC) was established over 10 years ago, HIC is recognized as a leader in health data linkage, and were the first centre in Scotland to offer a Safe Haven, which is now Nationally Accredited, and ISO27001 certified. To find out more click here to watch the HIC Explainer Video.
 
The National Phenotypic Screening Centre is a world-class facility for phenotypic screening run by an interdisciplinary team of scientists and engineers who collaborate to advance the use of complex biology and to drive innovation. The main screening facility is at the University of Dundee 
 
The Scottish Health Research Register (SHARE) initiative is based at NHS Tayside within Ninewells Hospital in Dundee. SHARE is a register of people aged 11 and over who are willing to be invited to take part in research projects, and have also consented to allow SHARE to use any leftover blood following routine clinical testing. This will aid health research and improve future healthcare throughout Scotland.   To register for SHARE today please click here.